Kings make it four in a row with a superb bowling effort
Friday 31st July 2015 8:39 am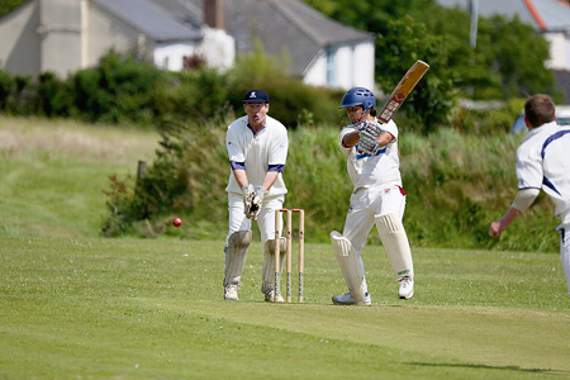 Will Pike square cuts powerfully
Subscribe newsletter
Subscribe to our email and get updates right in your inbox.
Devon Cricket League 1st XI C division west
Kingsbridge (18 points) beat Bridestowe (five) by 39 runs
With heavy rain forecast friday Kingsbridge took the unusual step of covering the pitch.
This did the job and it was certainly drier than would otherwise have been the case.
Second-placed Bride­stowe won the toss and inserted Kingsbridge.
Both openers fell with the score on three and a difficult afternoon looked in prospect.
The pitch was proving to have little pace as Pike (19) and Badale (21) set about repairing the damage until Pike was out with the score on 37.
Bridestowe are certainly one of the better bowling sides and a steady procession of wickets was only helped by a liberal sprinkling of extras.
At 105-8 the writing looked on the wall but Kings, with batting all the way to number 11, had different ideas. Rosewarne (25), looking in good form, put on 41 with his skipper De Silva (19 not out) to hoist the the total to 141.
On his demise Peach, with eight not out, put on 22 with De Silva as a respectable 163 for 9 was posted.
Kingsbridge were proving to be far more resilient than earlier in the season and they needed to be as the visitors raced to 54 for 0.
The golden arm of De Silva then proved decisive as his early introduction into the attack saw a spell of three wickets for one run as wickets tumbled.
Peach's reintroduction removed the overseas player and Dan Hardy up the hill produced three wickets.
A ninth-wicket partnership of 24 produced a glimmer of hope, but Will Pike snuffed this out and it was left to Westlake to take the winning wicket as Bridestowe were bowled out for 124.
De Silva finished with 4-5 and Hardy 3-15 as Kings recorded their fourth straight victory.
The match ball was kindly sponsored by David Lawrence.
Devon Cricket League 2nd XI B division west
Tavistock (five points) lost to Kingsbridge (20) by 97 runs
After losing the week before to Ivybridge by eight wickets, Kings took on Tavistock away last Saturday on a sunny day on the moors.
Clark won the toss and chose to bat, which proved a great decision as Kings got off to a superb start.
Hardy and Ellis scored quickly until the 11th over, when Ellis was trapped LBW on 23.
This brought in Edmonds and he went on to score even quicker than Ellis by giving Hardy the run around, pushing singles and the odd two.
Edmond was trying to keep himself and Hardy fit, but in the end it didn't end well for Hardy as Edmonds ran him out on a well-earned 47 when he looked to be going on to a big score.
With the score on 103-2, Perkin had a bit of an easier time of it until him and Edmonds were forced to run a four. A few overs later they ran a single plus three overthrows, but when Perkin was on 15 he had to retire hurt after pulling his calf muscle.
Clive Clark came in and saw Edmonds reach his fifty before he was caught for a great 59.
This brought Ham­mett to the crease, but he fell for three, follwoed swiftly by Chandler for the same score.
Clark was dismissed soon after, caught for a brilliant 45. Not many runs were made after that and with all the 45 overs bowled Kings posted 224-5.
In reply Tavvy did not look like they were going to score many as they could not really get Edmond or Ham­mett away.
With some great bowling on a bowlers' track, Hammett struck first with one of a few stumpings from man-of-the-match John Hardy plus a caught behind.
Hammett took his next wicket four overs later, Edmond joined in with a wicket with a catch off his bowling.
He ended up with figures of 1-30 from eight overs and Ham­mett took 2-8 from six overs.
Young Olly Robins­on replaced Hammett and Walker replaced Edmonds, with both bowling well. After 17 overs the score was 57-3.
With Robinson taking two wickets with some great bowling, he finished up with 2-34 off his nine overs and Walker bowled his nine overs to take 3-33, leaving Tavvy 121-8.
In the end Clark claimed a wicket and Rob Dorey bowled two balls to take the last wicket.
In the end Tavvy were bowled out for 127 in the 36th over, leaving Kings picking up 20 points to go above Tavvy.
Kings are now fourth from bottom, just 10 points behind Yelver­ton and 40-plus points behind third.
They have got a hard game this Saturday against top-of-the-league Torquay at home.
Comments
To leave a comment you need to create an account. |
All comments 0