Supercar rally delivers important message across Westcountry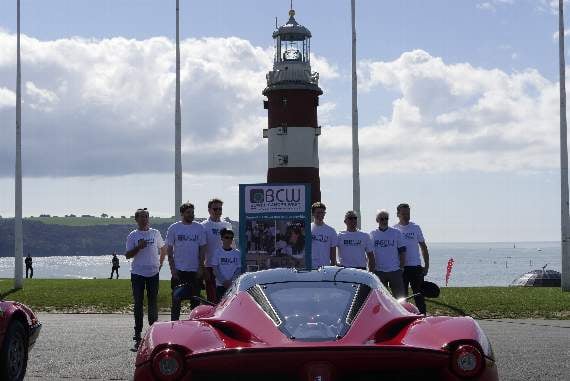 The Bowel Cancer West Grand Tour on Plymouth Hoe
Subscribe newsletter
Subscribe to our email and get updates right in your inbox.
A man from Loddiswell joined a supercar rally to drive a crucial message about Bowel Cancer from Land's End to Bristol earlier this month.
Roger Stone, a bowel cancer survivor, spearheaded the Bowel Cancer West Grand Tour in the hope of saving lives during bowel cancer awareness month in April.
He was joined on the rally by Mark Coleman, the surgeon who operated on him. The supercars on the rally included a Lamborghini, a Porsche, a LaFerrari and a McLaren.
Roger said: "The rally was a real success. We visited seven hospitals and met doctors, nurses and patients. On Plymouth Hoe, we were joined by more supercars, and had three Ferraris, three Porsches and four Astons.
"It wasn't so much about raising money, but about raising awareness. Touring with the supercars was a tremendous way to break the ice. The cars were a rallying point, when people stopped to look at the cars, we could then talk about bowel cancer."
Bowel cancer is the second biggest killer of all cancers, but it is only the fourth most frequently diagnosed cancer. Diagnosis often happens too late to save lives.
The charity hopes to make people aware of the symptoms of the disease, which include bleeding from the bowel, unusual bowel movements and tiredness.
Despite the NHS sending out free home testing kits to people aged over the age of 60, a survey found that only 42 per cent of people in the West Country had returned a sample to the screening laboratory.
Roger continued: "The NHS is doing a terrific job in providing the raw materials for early diagnosis. It's our job to actually make sure people do it."
Roger was diagnosed with bowel cancer in August 2014, following a spell living and working Asia.
"I'm a living testament of not what to do. I was very lucky," Roger said.
"I returned to the UK in May 2014, and with hindsight, the symptoms had been there for about nine months prior to my return. I didn't immediately take action, but with the encouragement of my partner, I went to the doctor. I think if I'd stayed in Asia, I would have continued to rationalise my symptoms," Roger said.
"The message is - don't do what I did," Roger continued. "I was fortunate, I made a full recovery, but with surgery, chemotherapy and I had to wear a colostomy bag for six months."
Bowel Cancer West have said the good news is that the south-west offers first class bowel cancer treatment. And with early diagnosis and a healthy lifestyle, the chances of surviving the disease are greatly improved.
Roger continued: "The two key messages are to use the screening tests the NHS provides and to exercise and eat well. There are significant problems with eating red meat and processed meats. You don't have to cut them out, just put balance into consumption. We just need to be considerate of what we eat. Be prudent, be aware and eat lots of turmeric!"
A number of studies have shown that turmeric has anticancer properties, with particularly good effects on bowel cancer, breast cancer, stomach cancer and skin cancer cells.
"I'm so grateful to Mark for saving my life. He said to me recently that if I'd ignored my symptoms another few weeks, I probably wouldn't be here today," Roger added.
Surgeon Mark Coleman said: "There is a very serious message we are trying to get over to people – that bowel cancer can be cured in over 90 per cent of cases if caught early.
"Anyone experiencing irregular bowel habits, bleeding from the bottom or abdominal pain or bloating should visit their GP. Likewise, anyone over the age of 60 who receives a free NHS test in the post, must not ignore this."
Through generous donations from the public, the charity is looking to save more lives like Roger's by raising awareness as well as committing to local research and extended training for GPs and nurses.
Roger is also available to talk about bowel cancer and his experiences to local charities and groups.
Comments
To leave a comment you need to create an account. |
All comments 0