Double success for the Kings as seconds earn thrilling win
Friday 14th August 2015 7:31 am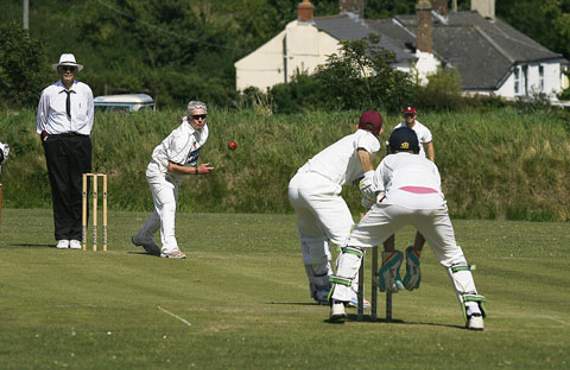 Kingsbridge's Neal Peach bowls against Chagford
Subscribe newsletter
Subscribe to our email and get updates right in your inbox.
South Devon (eight points) lost to Kingsbridge (18) by one run
After a big loss the week before at home to Torquay, Kings travelled away to Newton Abbot to play struggling South Devon.
Kings were stuggling for players due to people being away and two playing for the first team, but Matt Ham­mett had to make it work and winning the tossed helped.
Batting first made it easy and Hardy and Ellis made light work of scoring runs until Ellis fell on 12 to a dubious LBW decision.
That brought Chand­ler Bing to the crease and he held up his end well. Hardy was free scoring and looking good at the other end until he tried smashing a wide ball and ending up chopping on to his own stumps for 37.
This left the score on 67-2. Two more wickets fell cheaply to bring Ham­mett and Dorey to the crease.
Dorey, to be fair, came in and smashed the ball round the park with Hammett holding down the other end scoring runs.
After the second lot of drinks Hammett fell on 23 and Dorey fell on 34 putting on a 49 partnership with the score was on 130-6.
Stand-in Mike Perkin and man of the match Mark Sullock came in and rotated the strike to keep the score board ticking.
There another dubious decision where Perkin was LBW to one which hit the bat, but their skipper fairly called him back.
They carried on with pushing the score along to 170 until three wickets fell just like that, Perkin on 14, Sullock 11 and Rhymes for 0 in the 42 over.
In reply South Devon looked to score quickly which didn't last long as Hammett with a slower ball cut back into the left hander and bowled him.
This brought the skipper in and the pair scored a few runs. Edmonds bowled four overs before coming off to try something different, with Perkin replacing him. He was bowling well and in his third over picked up the wicket of the opening batsman.
Rhymes replaced Hammett but came off after three for 0-15.
Sullock replaced him to see if he could pick up wickets, but the batsmen looked settled so Hammett took over in an inspired change as he trapped the skipper LBW.
Their skipper thought he had hit it with the bat first, even though it hit the pads before the bat, so thought he would tell the Kingsbridge players and captain Clive Clark what he thought of them seeing as he brought Perkin back after his decision.
Clark did have a word with the umpire and asked him if it hit the pads first and he agreed, so Clark told the skipper he would not be calling him back.
After that it went down hill and the atmosphere tightened. Sullock replaced Hammett and bowled well in his first over back, taking his first of four wickets.
Perkin ended his spell of nine overs to finish with 1-19, Dorey replaced him and bowled three overs for 16 runs before Ed­monds came back on to end his nine over spell with figures of 1-28.
It was getting close now, with the score on 151 and four overs left.
Hammett bowled his last over to try and do some damage but eight runs came from it, leaving him with 2-37. It was therefore in the hands of Sullock and Rhymes to bowl the last three overs, with the score on 159-5.
Sullock took his second wicket and only went for six in the over, meaning it was getting tight at 165-6. In the penultimate over Rhymes picked up a wicket and only went for two runs, leaving the score on 167-7.
The last over saw South Devon only needing four runs to win with three wickets in hand. However, silly things can happen in cricket, as this over proved.
Sullock picked up his third wicket then Lynn was quick off the mark to make a great run out. With only one ball left, the score was 169-9, with one wicket or one run to decide the contest.
Sullock bowled a corker to the last man in, great glove work from Hardy saw a stumping and it was all over, Kings winning by one run and picking up 18 points. Stand out bowler Mark Sullock finished up with nine overs bowled and 4-37.
Clark wishes to thank his team for a great performance under the pressure of the hostile crowd at South Devon.
Kings are away this week to Cornwood.
Clark also said: 'I would also like to thank everyone for Sunday's president's day, it was a great day and seeing the president's side winning in the last over.
'Thank you to everyone that organised it and help to do there bit to see the day go without an hitch.'
Kingsbridge (16 points) beat Chagford (nine) by two wickets
With captain De Silva away with work, James Westlake took the reins hoping to improve upon his 100 per cent defeat record while in charge.
Kingsbridge lost the toss and Chagford elected to bat. It was an unusual occurrence for Kingsbridge having to field first and wreaked havoc with the tea preparations.
Little luck followed as the ball went in the air through, past and overs players. Coupled with a couple of dropped catches, Chagford's openers put on 176 for the first wicket.
Three hundred-plus looked on the cards but the reintroduction of Peach saw Fulner re­moved for 106 and the other opener Hol­land for 67.
A good platform of 207 for 2 had been set and the league's leading run scorer Marais had just arrived at the crease.
However, the bowlers bowled a tight line and length, restricting the opposition to 251 for 3 and Marais to 49 not out at the end of the innings. Peach finished with 2-35 from his nine overs and Rosewarne 1-35 from six.
Kingsbridge were not downcast, having lost twice at home posting 240-plus, and started brightly, putting on 56 for the first wicket.
Westlake's fine season continued as he racked up the runs and he and Badale had the scoreboard moving along nicely, putting on 66 for the second wicket be­fore Badale perished for 20 looking to pick up quick runs as he had to leave early to catch a train.
What followed was five wickets for 35 runs as Kingsbridge's early season form returned and at 158 for 6 things didn't look good as Westlake departed for a magnificent 93.
Dan Hardy came in and put bat to ball, kick-starting the scoring rate as 10 an over was now required. He perished for 30 with the total on 188, which brought Clive Clark to the crease.
A couple of lusty blows into the field kept the game interesting but when the eighth wicket fell on 216 with five overs to go, Kings heads dropped.
However, they hadn't taken account of the two old stagers at the crease as Clark rolled back the years along with Peach as they scored off nearly every ball.
Both planted the bowl­ers back into the field as Kings raced to victory with an over to spare, Clark finishing with a rapid fire 42 not out and Peach 12 not out from five balls to earn a remarkable victory.
The match ball was kindly sponsored by Palladium.
Comments
To leave a comment you need to create an account. |
All comments 0