Virus case numbers continuing to fall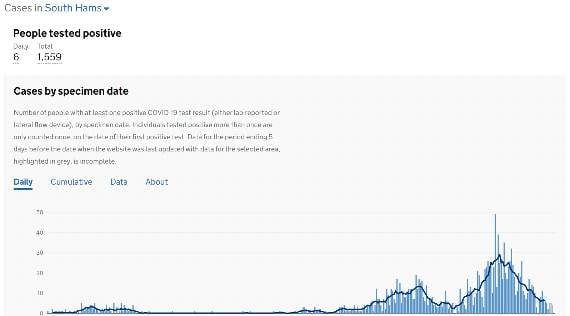 Subscribe newsletter
Subscribe to our email and get updates right in your inbox.
The number of coronavirus cases confirmed across Devon and Cornwall has fallen by a quarter in the last week and to the lowest level since the start of December, with South Hams seeing 39 cases.
A total of 1,169 new cases were confirmed across the two counties in the last week as the total for the two counties now stands at 44,104– the lowest weekly total for nine weeks.
Devon also has the lowest infection rates of any upper tier authority in England, with Plymouth second and Cornwall third, and at a lower tier level, the seven lowest infection rates are all in Devon.
Government statistics show that 1,169 new cases have been confirmed across the region in the past seven days in both pillar 1 data from tests carried out by the NHS and pillar 2 data from commercial partners, compared to 1,547 new cases confirmed last week.
Of the 1,169 cases confirmed since February 5, 425 were in Cornwall, with 90 in East Devon, 68 in Exeter, 101 in Mid Devon, 24 in North Devon, 145 in Plymouth, 39 in South Hams, 105 in Teignbridge, 149 in Torbay, 11 in Torridge and 12 in West Devon
This compares to the 1,547 cases confirmed between January 29 and February 5, of which, 592 were in Cornwall, with 108 in East Devon, 51 in Exeter, 105 in Mid Devon, 27 in North Devon, 242 in Plymouth, 55 in South Hams, 114 in Teignbridge, 203 in Torbay, 11 in Torridge and 39 in West Devon
While the numbers in Exeter have risen slightly, and are unchanged in Torridge, they are two of the three areas with the lowest infection rates in Exeter, and only Mid Devon is not seeing cases fall by specimen date.
A total of 895 of the cases in the past week have a specimen date between February 5 and 11, with 348 in Cornwall, 75 in East Devon, 60 in Exeter, 66 in Mid Devon, 18 in North Devon, 99 in Plymouth, 27 in South Hams, 76 in Teignbridge, 111 in Torbay, 7 in Torridge and 8 in West Devon.
Torridge is the area in England with the lowest infection rate (17.6/100,000), with North Devon second (23.7/100,000), Exeter third (37.3/100,000), West Devon fourth (46.6/100,000), South Hams fifth (52.9/100,000), East Devon sixth (54/100,000), Plymouth seventh (67.5/100,000), Teignbridge 11th (76/100,000), with Cornwall at 80.8/100,000, Torbay and 126/100,000 and Mid Devon at 142.1/100,000.
At upper tier level, Devon has the lowest infection rate in England at 56.6/100,000, and is the lowest since October 1, with Plymouth having the second lowest and Cornwall third.
The latest positivity rates for tests carried out stands at 2.3 per cent in South Hams. Every single area has seen positivity rates fall since last Friday except Mid Devon.
In terms of infection rates per age range, case rates are highest in the 20-39 age ranges across Devon and Cornwall, with only South Hams and Torridge (the 40-59s) and Exeter (80+) having infection rates higher in different age groups.
In terms of the latest MSOA cluster maps, that cover the period of specimen dates between February 1 and February 7, there are 73 areas of Devon and Cornwall with between 0-2 cases, up from 38 as of last Friday
The MSOA area in South Hams with the highest number of cases is Dartmouth with just eight.
It comes as Steve Brown, director of public health Devon, said that while the news that Devon has the lowest infection rates is good news, it is too soon for celebration.
He said: "Case numbers are continuing to fall in most parts of Devon, and that's because people in the main are adhering to the national restrictions.
"We are seeing a slight increase in cases in Mid Devon, although case numbers there are still low – and far lower than the national average.
"But those Mid Devon numbers should be a reminder to show how easily cases can go up quickly as well as go down."
Case rates are currently highest for those aged 20 to 39, but are falling in all age groups, and most rapidly in those aged 80 and over.
He added: "Please don't be complacent or drop your guard, either in the workplace or indeed travelling to or from work."
The COVID-19 cases are identified by taking specimens from people and sending these specimens to laboratories around the UK to be tested. If the test is positive, this is a referred to as a lab-confirmed case.
Confirmed positive cases are matched to ONS geographical area codes using the home postcode of the person tested.
Cases received from laboratories by 12.30am are included in the counts published that day. While there may have been new cases of coronavirus confirmed or people having tested positive, those test results either yet to reach PHE for adding to the dataset or were not received in time for the latest daily figures to be published.
Comments
To leave a comment you need to create an account. |
All comments 0