Full details of the centenary commemorations for the loss of Hallsands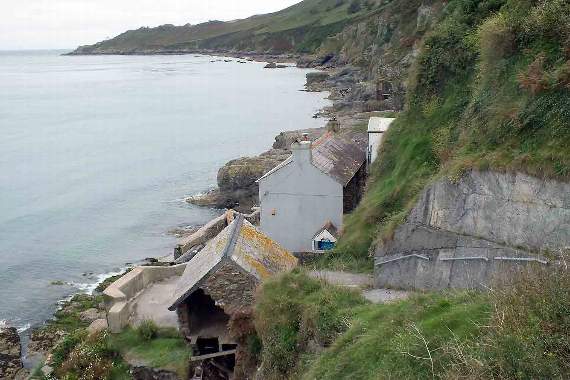 The remains of the old village of Hallsands (Chris Derrick)
Subscribe newsletter
Subscribe to our email and get updates right in your inbox.
IT'S almost one hundred years since the great storm that destroyed the old village of Hallsands.
At the end of the month, there will be a series of poignant events to commemorate the centenary of the loss of the village.
Hallsands stood beneath the cliffs, just over a mile north of Start Point, but in intense storms almost one hundred years ago, most of the village was destroyed.
Little is left of the old village - two buildings, used as holiday homes stand precariously perched on a rock platform a few metres above the sea, otherwise only ruins of what was once a thriving fishing village remain.
From Thursday, January 26 until Saturday, January 29, there will be an exhibition of old photos and memorabilia from the old village at St Andrew's Church in Beesands. The exhibition will be open from 10.30am until 4pm each day, and includes items that were saved from the old village along with prints and woodcuts of Hallsands by local artist Mike Glanville.
On the day of the centenary, Thursday, January 26, from 11am until 3.30pm the gate to the old village will be unlocked for anyone to visit what remains of Hallsands.
Gay and Geoff Martin, who own Pebblecove in South Hallsands, will be opening the gate by the viewing platform. They have advised that all are welcome, but strictly at their own risk. Access is extremely steep, treacherous underfoot with deep gullies. People are advised to take extreme caution, not to cross barriers and obey signs. Access will be subject to weather and tidal conditions.
At 3pm, Her Majesty's Lord-Lieutenant of Devon, David Fursdon will unveil a commemorative plaque by the coastal path above the old village. The car park at Prospect House has been made available to those attending the unveiling, by kind permission of Amanda Lubrani. There will also be a courtesy bus, accepting donations and ferrying people between events during the day.
At 3.30pm, there will be a commemorative walk to Beesands from the old village, re-enacting the escape made by the villagers when the storm died down.
The Lord-Lieutenant will visit the exhibition at St Andrew's Church at 4.30pm and then a commemoration service will be held at St Michael's Church, Stokenham, in the presence of the Lord Lieutenant and other dignitaries.
From 7.30pm onwards, there will be a crab supper at The Cricket Inn in Beesands. Tickets are selling out fast, but can be obtained by emailing Jonathan Hale at [email protected].
About half a dozen prints of artwork by Mike Glanville, signed and numbered for the Hallsands Centenary, will be auctioned at the crab supper in the evening.
There will also be a raffle, with pictures, artefacts and a 'mystery prize' donated by internationally-renowned musician Damon Albarn, from the bands Blur and Gorillaz, who owns a property near the village.
Tim Lynn lives in North Hallsands where he operates a fishing boat and represents the village on Stokenham Parish Council. His forbears lived in Hallsands at the time of the storm.
Tim said: 'We believe that it is important to mark this centenary especially as history seems to be repeating itself. Recently storms have severely damaged our sea defences. Although a road has been destroyed and houses are at risk the authorities refuse to do anything. They betrayed Hallsands then and they are betraying us now.'
Jonathan Hale, whose great, great uncle was landlord of the London Inn in the old village said: 'January is perhaps not the best time of year to commemorate an anniversary, but winter is when storms happen. Nevertheless we are keen to pay tribute to our forebears with a torchlight procession along the route they took to safety.'
Further information can be found by searching for 'Hallsands Centenary Commemoration' on Facebook, or by contacting David Marcer on 01548 511171 or [email protected].
Comments
To leave a comment you need to create an account. |
All comments 0