Man dies 103 years to the minute after he was born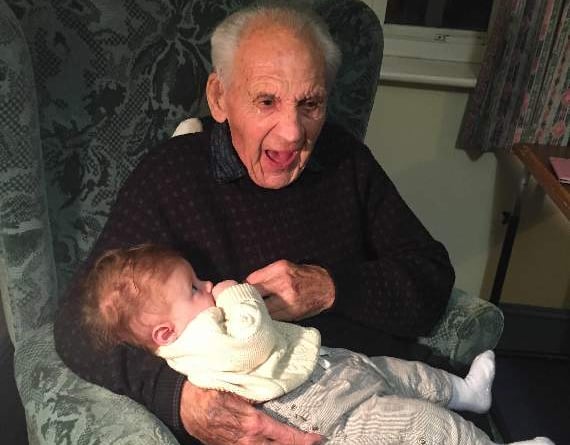 Jimmy Newell with great grandson Ben
Subscribe newsletter
Subscribe to our email and get updates right in your inbox.
A SECOND World War computer pioneer has died 103 years to the minute after he was born.
Jimmy Newell was born to the sound of the bells ringing at midday on the October 11, 1913. He died in Torbay Hospital at exactly noon on October 11, 2016.
In many ways this epitomised him: if he was going to die on his 103rd birthday, he wanted to actually be a full 103 years old.
Sadly, both Pat and Paul Heighway, her husband, a well-known local architect, died earlier this year.
Jimmy had moved into an apartment next to them and had a fall on September 23 and transferred to Torbay Hospital where he died of complications from his injury.
Andy, one of his grandsons, wrote on the day he died: 'On this day in 1913 my grandfather drew his first breath, today at noon his last. Eyes full of extraordinary things have closed. A heart charged with 103 years of joy and suffering is now still. Travel well and thank you.'
Again, this captures so much of Jimmy's life. He was born in Leeds and lived through two world wars (his elder brother was wounded at the Battle of the Somme); four monarchs; a flu pandemic which killed millions; a world-wide depression; the birth of flight; the spread of the motor car; the start of radio and television; nuclear bombs; space flight; mobile telephones; and computers – in which he played his own part.
He was the youngest of seven children in a family that ran a coal business and lived in great harmony in a back-to-back house with outside sanitation. He was incredibly close to his family and had fond memories despite the deprivation.
His family home was opposite the old workhouse that had one entrance for women and children and a separate one for men. If a family had more than a shilling they were refused entry for the night.
His mother would help all she could and he clearly remembered small piles of coins on her mantelpiece, where desperate families would leave their odd coppers to be collected in the morning – as Jim said: 'The good old days were not really that good for so many'.
He was a passionate sportsman and played many sports including demonstration games of badminton designed to popularise the game. He was still playing club cricket at 60 – his favourite team was obviously Yorkshire and he knew the legendary team well.
In many ways, Jimmy's life was a history book. And, yes, he actually did meet Lloyd George! During the Second World War, he tried many times to join the armed services but was not allowed as his work was 'of national importance'.
On one occasion, he did get past the early stages of enlistment only to be summoned before a colonel who threatened him with the glasshouse if he tried to join up again, Apparently, the colonel had been given an ear wigging by the War Office.
The family don't really know all that Jimmy did during the war, as he refused to discuss it, but much was to do with the early days of computing.
He did tell one story of having to duck when the Polish fighter pilots came in very low at Northolt airfield after a successful mission and tried to knock the cricket stumps out of the ground – he had absolute admiration for the Polish fliers.
After the war, he continued to work for Boroughs, one of the first computer companies, and he was at the cutting edge of new technology.
He helped computerise the banks and installed the first 'hole in the wall' cash point. Carol, his daughter, remembers going to look at a computer he was involved with and it took up all of one huge room.
When Jimmy moved to Dittisham, he threw himself into local life and was a well known and loved figure in the village. He and Kay were stalwarts of the Dartmouth Wine Society and Dartmouth Twinning Association. He was a passionate gardener and enjoyed village life to the full.
He walked unaided down Manor Street to the Ferry Boat Inn to be a part of the Dittisham Regatta earlier this year. His birthday parties in the village were legendary as were his quizzes, off the cuff speeches and his 'Birthday Poem'.
He once said 'if you live long enough, you become an icon' and in many ways he did become the icon for those who knew and loved him.
When asked to sum up his father's life, his son Graham said: 'He died exactly at the time he was born and I believe that this reflects his determination not to short change anyone. He was a totally honourable man who has left an amazing legacy for all his family. He will be truly missed by all those who knew and loved him.'
There will be a celebration of his life at St George's Church, Dittisham, on Thurs­day, November 3, at 2pm, followed by a toast and the reading of the final verse of his 'Birthday Poem'.
They will be standing at the portals,
They will be watching at the door,
They are waiting for my coming,
All my loved ones gone before.
All friends and those wishing to celebrate his life are welcome to attend.
Comments
To leave a comment you need to create an account. |
All comments 0